PTFE Film Tape with Silicone Adhesive - White
PTFE (Teflon) Film Tape uses high performance polytetrafluoroethylene (PTFE) film made from 100% virgin PTFE resin as base material. This tape offers an extremely low coefficient of friction, in combination with a pressure sensitive silicone adhesive, creates a smooth, non-stick surface over a variety of substrates to assist in the movement of materials in many types of lay-flat applications. Tape creates easy to release surface for ink and adhesive on rollers, plates, and belts.
FEATURES

MAIN TECHNICAL PARAMETER
PTFE film with single side silicone adhesive, no residue after removal.
1. Good for outdoor use. No change under sun.
2. 0.18MM AND 0.25MM used under presser feet for sewing machine.
Key Characteristics
Non-stick PTFE film provides a slippery and anti-friction surface.

Silicone adhesive provides clean removal with no residue.

Outstanding chemical resistance and inertness

High temperature resistance to 260℃

Dielectric insulation properties

Good wear resistance

Superior flame resistance
Specifications
Adhesive: Silicone
Backing: PTFE film
Thickness: 0.05mm, 0.08mm, 0.13mm, 0.18mm, 0.25mm (Customized)
Width: Max 500mm
Continuous Working Temperature: -70°C to 260°C
Applications
Providing excellent mold release in composite bonding

Wrapping and insulation connection of high temp. and high voltage cables

Wrapping web rollers to reduce friction

Covering web former edges to minimize friction during folding

Noise reduction of parts where surfaces rub together

Increasing wear life of parts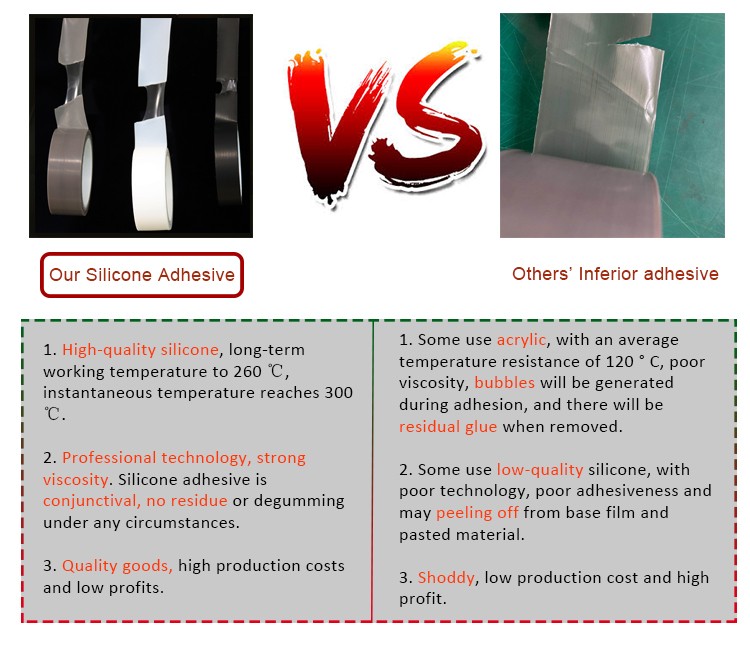 Key Characteristics