New. Upgrade Gray PTFE Film Silicone Adhesive Tape
New upgrade ptfe film tape with silicone adhesive on side. 1. Higher strength 2. Stronger adhesive 3. Heat resistant to 300℃
FEATURES

MAIN TECHNICAL PARAMETER
New upgrade ptfe film tape with silicone adhesive on one side.
1. Higher strength
2. Stronger adhesive
3. Heat resistant to 300℃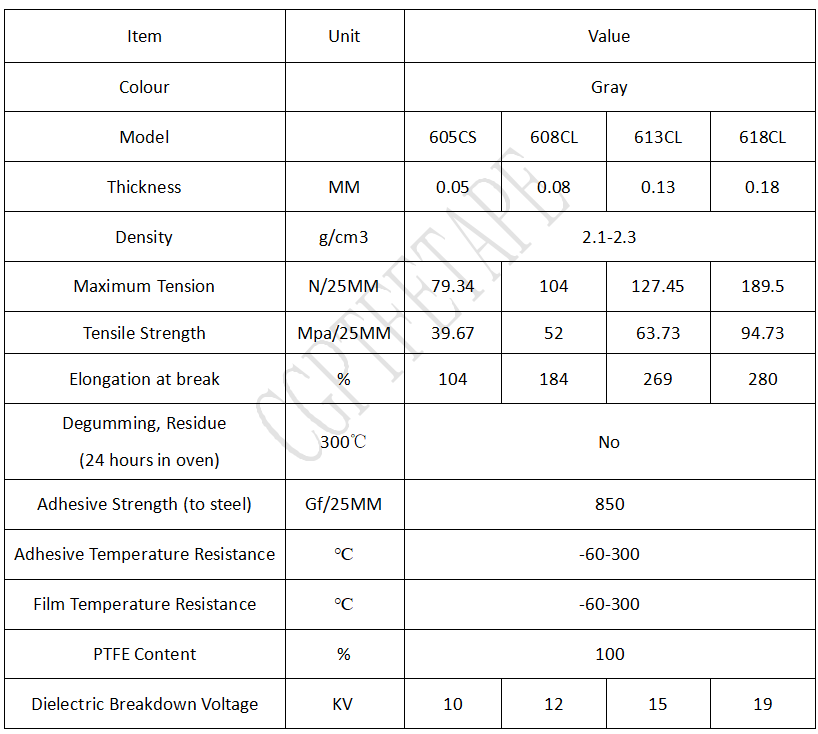 Key Characteristics

Non-stick PTFE film provides a slippery and anti-friction surface.

Silicone adhesive provides clean removal with no residue.

Outstanding chemical resistance and inertness

High temperature resistance to 300℃

Dielectric insulation properties

Good wear resistance

Superior flame resistance
Specifications
Adhesive: Silicone
Backing: PTFE film
Thickness: 0.05mm, 0.08mm, 0.13mm, 0.18mm, 0.25mm (Customized)
Width: Max 300mm
Continuous Working Temperature: -70°C to 300°C
Applications
Providing excellent mold release in composite bonding

Wrapping and insulation connection of high temp. and high voltage cables

Wrapping web rollers to reduce friction

Covering web former edges to minimize friction during folding

Noise reduction of parts where surfaces rub together

Increasing wear life of parts

Provides permanent release and superior surface finish, saving time and improving quality.

Protects rubber tooling mandrels and intensifiers from resin attack, extending tool life and reducing cost.

Good elongation makes application to complex shapes easier, reducing time and improving quality.